When you login, you'll see your THB Wallet balance on the left side of the screen: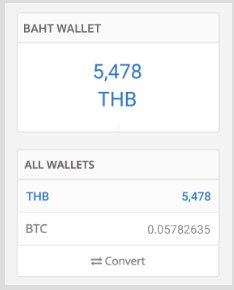 Bitcoin Wallet vs. THB Wallet
Similar to your Bitcoin Wallet, THB Wallet can be used to store your Thai Baht currency. However, note that THB wallet cannot be used to send or receive THB between other wallets, it is only dedicated for each individual coins.co.th wallet user.
You may also click this link to learn how to easily Convert THB to BTC 
If you have any questions about our services, please feel free to email us at support@coins.co.th or call us at +66 2 038 5038.