If you wish to cash-out your Bitcoin but you don't have a Thai bank account, we suggest you to use Bank Cash Pickup. 
How to cash out using Bank Cash Pickup.
1. Sign in to coins.co.th.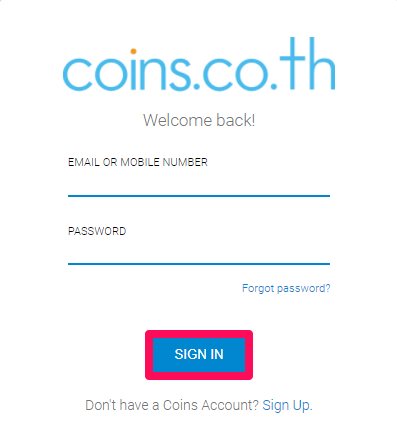 2. Go to Cash Out section and click Bank Cash Pickup option.
3. Choose your desired bank available on the list to pick up your money and click Next Step.
Bangkok Bank Transfer without Account
Krungsri Quick Transfer
Siam Commercial Bank Transfer without Account
4. Place your desired amount to cash out and click Next Step.
5. Fill in the Recipient's Detail and click Complete Payment.
Nationality
Bank Branch Location
Gender
National ID/Passport ID
Bank Branch Name
Full Name
6. Wait for the reference code that will be sent to your email within one business day. To claim your money, go to the bank branch where you would like to get your cash with the reference code and your passport. 
If you have any question, please get in touch with us through support@coins.co.th.
---
Check our complete list of services so you know where to spend your bitcoin!